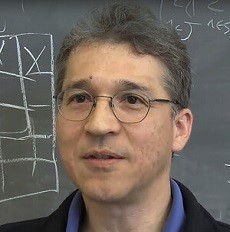 Joseph Chang Appointed James A. Attwood Professor of Statistics and Data Science
Joseph Chang, an expert on the application of probability and statistics, has been appointed the James A. Attwood Professor of Statistics and Data Science. His appointment is effective immediately.
He is a member of the Faculty of Arts and Sciences in the Department of Statistics and Data Science and the Applied Mathematics program.
Before joining the Yale faculty in 1989, Chang did graduate studies in Mathematics, Operations Research, and Statistics at Stanford. He has held visiting positions in the University of California at Santa Cruz, the National Security Agency, and Pfizer Corporation Central Research. His research has spanned a number of areas in probability, statistics, and applications, including stochastic processes, Bayesian inference, Monte Carlo simulation, evolutionary tree reconstruction, and statistical genetics.
One of the broad-ranging applications of his work is in illuminating understandings of evolutionary relationships among different species. Chang's work has clarified capabilities and limitations of phylogenetic methods to reconstruct evolutionary histories using genetic sequences and other data. Chang has also been acclaimed for his use of mathematical models to study shared ancestry among humans, quantifying how closely related we are to each other and showing how we likely share identical ancestors within the recent several thousand years.
As director of the Statistical Analysis Core of the center funded by the highly competitive Autism Center of Excellence program of the National Institutes of Health, Chang collaborates with the Yale Child Study Center on research that provides insights into development among autistic children. Recently, he developed mathematical models to address problems related to the SARS-CoV-2 pandemic. Aside from being featured in published articles, this work was developed in real time to support Yale's response to the pandemic and was instrumental in considering a range of scenarios and developing strategies.
Chang is an exceptional teacher and a leader in statistical and quantitative education at Yale. He is a recipient of two of Yale's highest awards for teaching, the William Clyde DeVane Medal and the Lex Hixon Prize for Teaching Excellence in the Social Sciences. His students appreciate his capacity to make the technical and abstruse understandable and engaging.
As chair of the Department of Statistics from 2006 to 2012, he led the development of the first undergraduate statistics major at Yale. He has also led the development and teaching of several new courses in statistics. He has served on the Course of Study Committee, as chair of the Quantitative Reasoning Council, as director of undergraduate studies in statistics and also in applied mathematics, as a freshman advisor in Timothy Dwight College, and on the board of directors of the Neighborhood Music School in New Haven. A respected leader in the Yale community, Chang is now returning to begin another term as the next chair of the Department of Statistics and Data Science.
~Yale News, August 12, 2021